About Us
With a track record of thirty years of practice, Attorney Sullivan has experience in the Probate and Family Courts throughout Eastern Massachusetts  as well as the District Courts and Juvenile Courts.  Attorney Sullivan has a great deal of trial experience and is well respected by fellow members of the Plymouth County Bar Association in addition to strong rapport with Judges and his colleagues.  John received his undergraduate degree from Stonehill College and his Juris Doctorate from the New England School of Law.  John was admitted to the Massachusetts Bar in 1985 and has always been a member in good standing.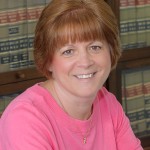 Joan MacLennan
, Paralegal to Attorney Sullivan, has thirty years of legal experience.  As a legal professional,  Ms. MacLennan is well-versed in court proceedings as well as client communication and facilitation.  Prior to her work with John L. Sullivan Law, Joan was with a successful law firm for over 22 years as legal assistant to lead counsel and managing partner.   She brings both a warm personality as well as a sharp intellect to all of her interactions and will serve as a vital resource throughout the legal process.
The firm is located at Seven MacDonald Terrace in Scituate, MA, less than a minute from the Route 3A/123 rotary.  We are right off  Ford Place near the Greenbush post office.  The location is also less than an hour drive from all of the Courts in Plymouth County and convenient to Route 3 for times when appearances are necessary in Bristol, Norfolk or Barnstable Counties.
Testimonials
"We appreciate all your hard work" K.
"You are a wonderful attorney and I am glad I had you in my corner" J.
"You are a lifesaver." J.
"Thank you for all your help and good advice." R.
"I am grateful God made people like you to help people like me." C.